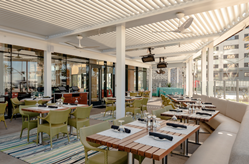 StruXure Helps Increase Restaurant Sales With Covered Outdoor Seating
The StruXure Pergola X helps businesses grow by leveraging the property they already own.
DAHLONEGA, Georgia (PRWEB)
June 08, 2021
Over the past 15 months, StruXure has helped many restaurants create new outdoor seating configurations, as well as covering existing outdoor seating, so restaurants can continue to serve their customers. It wasn't a new idea, but the pandemic certainly motivated restaurant owners to quickly find a solution to sitting outside, and StruXure was ready.
According to the 2021 National Restaurant Association (NRA) State of the Restaurant Industry Report, 62% of fine restaurateurs and 56% of casual restaurateurs have devoted more resources to developing and expanding meals in outdoors since the start of the pandemic.
"We've been installing our Pergola X product in restaurants, country clubs and other commercial properties for years," said StruXure CEO Scott Selzer, "but when restaurants were forced to close their indoor dining areas Due to COVID-19 restrictions, it has become essential for them to create comfortable outdoor spaces in which to serve their customers in order to stay in business.
The Pergola X is made of strong and ultra-durable powder-coated extruded aluminum. With automated louvers that rotate 170 degrees, it offers versatile weather protection. The system can also accommodate lights, fans, heaters and screens. A patented 360 ° integrated gutter system collects rainwater from closed louvers and sends it to concealed downspouts for the most waterproof system on the market, offering another way to keep customers comfortable when they dine out. Automation is provided using high-end Somfy motors and the MyLink app, providing confidence and ease when adjusting louvers and any additions, at the push of a button.
The StruXure Pergola X helps businesses grow by leveraging the property they already own. "It's a relatively quick set-up but a long-term solution," Selzer added, "for an investment that pays big dividends." And, based on the NRA report which also shows that 85% of consumers who plan to return to eat there would consider choosing at an outdoor table, there is evidence that concerns about health and dining out will persist. . However, there is also evidence that people want their dining options back (restaurant sales rose sharply in March 2021 according to the US Census Bureau). For more information on Pergola X for Restaurants, visit https://struxure.com/products/pergola-x/commercial/.
For a testimonial video, please visit: https://drive.google.com/file/d/1l9C0JVR7zywxpFG5bAOmbarqKZTzkvJ3/view?usp=sharing
###
About StruXure:
Founded in 2011, CEO and Chief Product Architect Scott Selzer had simply set out to design a better pergola to enhance the outdoor living space of one of his clients. Scott was a college teacher at the time, with a part-time home improvement business, and when he couldn't find the product he needed, a pivoting louvered roof structure the user could control, he designed hers. Little did he know he had embarked on a journey that would lead him to one of the fastest growing private companies in the United States.
Steady growth attracted top talent and led the company to open a state-of-the-art manufacturing facility and head office just north of Atlanta, Ga., In 2016. A distribution center and hall West Coast exhibit, located just outside of Las Vegas, NV, was added in Fall 2017. With StruXure dealers from Canada to the Caribbean, the company is poised to pave the way for a lifetime most innovative outdoor activities in North America and beyond. StruXure celebrated its 10th anniversary in April 2021.

Share the article on social media or by email: