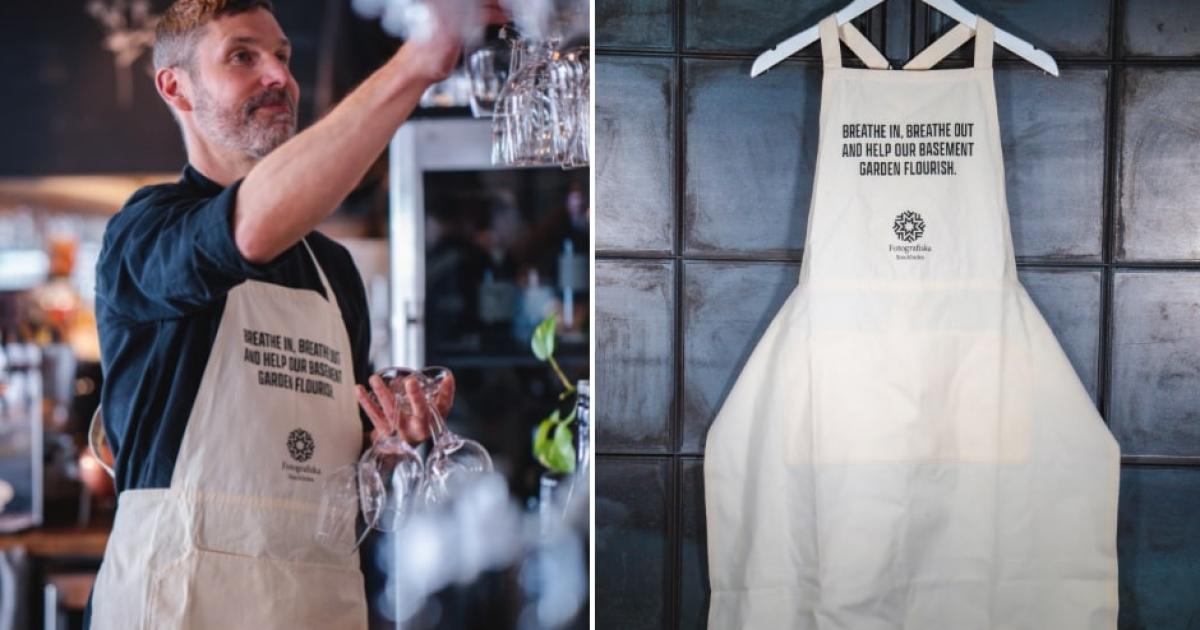 Stockholm restaurant staff wear CO2-absorbing aprons
Stockholm restaurant staff wear CO2-absorbing aprons
It is then used to grow plants used in restaurant dishes
It may look like a regular kitchen apron at first glance, but the new work gear worn by the staff at the Fotografiska gallery bistro in Stockholm makes it captures CO2 from the restaurant atmosphere. The aprons are made from an absorbent cotton fabric which, when heated, releases carbon dioxide, which is then used as food for the bistro's hydroponic plant garden. Talk about perfect circularity on a small scale!
The innovative fashion technologycalled Carbon Looper, was developed by the Hong Kong Research Institute of Textiles and Apparel (KHRITA) in collaboration with the H&M Foundation's Planet First program.
Innovative response to fast fashion
The Carbon Looper project treats cotton garments with a solution containing amines that allows the surface of the fabric to capture carbon dioxide ambient air. Apparently it was inspired by the chimneys of coal-fired power plants which use something similar to reduce carbon emissions into the atmosphere.
Once the work day is over, the employees leave their aprons in the bistro's greenhouse. Carbon dioxide can then be released from the tissue by heating it to 30-40°C, where it can be naturally absorbed by plants during photosynthesis. Plants, of course, are on the menu.
The amount of CO2 captured per piece of clothing per day is about 1/3 of the amount a tree absorbs per day. After only three 'loop cycles', the garment has effectively neutralized itself climatically – and instead begins to have a positive effect on the climate. Improving and scaling up this technology is being intensively researched in parallel.
Christiane Dolva, Head of Strategy at the H&M Foundation, says of the collaboration with Fotografiska Stockholm:
"We want to find new solutions that can enable the fashion industry to become positive for the planet. And because change must happen now, we focus on an impatient and eager search for solutions. Our Planet First program with HKRITA is a perfect example of how we want to inspire change across the industry by showcasing evidence of different concepts. We don't have time for the slow or the traditional, so we want to get inventions out of the lab as soon as possible to test them in real life.
Her company is one of those mainstream fashion brands often blamed for the proliferation of so-called "fast fashion", which has been particularly hard on the planet's environment. Hopefully ideas like this can lead to a sustainable solution that meets the needs of the environment and the economy.