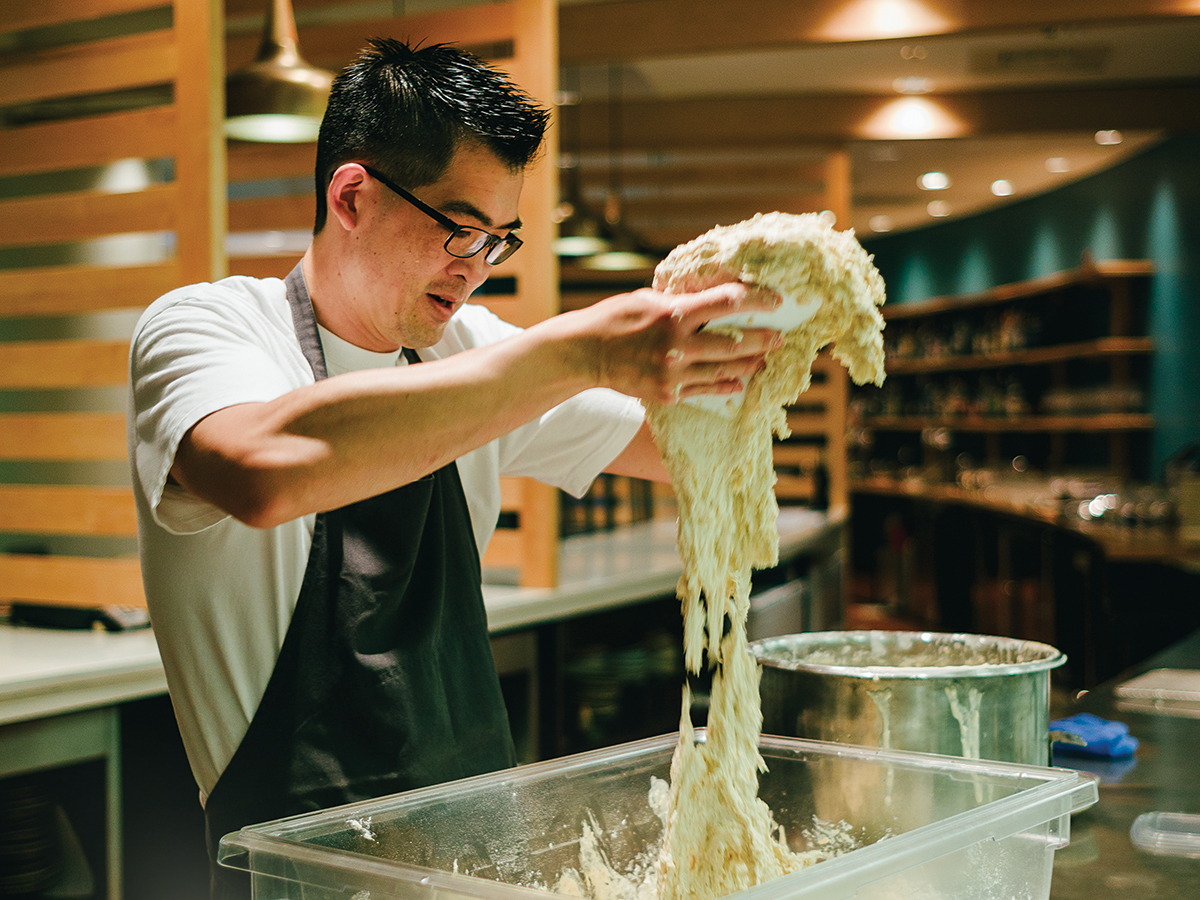 Pai Honolulu Wins Best New Restaurant, Service & Tasting Menu
Pai Honolulu impresses with carefully constructed plates, addicting little bites, killer cocktails and now homemade breads.
Kevin Lee, chef-owner of Pai Honolulu, bends the dough for the focaccia bread, which he started making in-house this year.
TThe restaurant is calm, empty, dark. A lonely figure moves among the shadows, disappearing in doors and reappearing in corners. Suddenly the lights come on, the air conditioner starts to hum. Kevin Lee, the chef-owner of Pai Honolulu, emerges from the darkness, holding a cup of cold brew coffee. Monday begins.
For the past few months, Lee has been using Mondays, when the restaurant is closed, to work on his latest culinary project: bread. Since the end of 2017, he has been perfecting the art of bread-making, learning methods in books and on YouTube, following breadmasters on Instagram, dissecting recipes and obsessing over the craft. In August, he launched the noon service at the Downtown restaurant, with a menu built almost entirely around his artisan breads. Cream of broccoli in a solid sourdough bowl, smoked brisket sandwiched in a savory ciabatta, a 90-day dry-aged beef burger with a soft potato bun – every bread product made by Lee.
"I figured if we had to serve bread in a restaurant, I was going to do it myself," he said in a neutral tone.
It's not like he needs more on his plate. Pai Honolulu opened in June 2017 in the Harbor Court lobby with thoughtful fixed-price and seasonal tasting menus, each dish meticulously prepared and unexpected. To this range, Lee has added inventive dishes to the menu – toast of roasted vegetables with Umbrian truffle and herb ricotta, grilled double-cut bacon dried and smoked on the spot with tamarind glaze, uni risotto and kabocha with seeds. pumpkin – for diners who preferred a leisurely snack on progressive, prix-fixe dinners. Then, in August, the restaurant opened for lunch, hoping to catch the crowds of downtown workers. Lee heals, ages and smokes his own meats; personally purchases fresh ingredients in Chinatown several times a week; and now he's making his own bread.
SEE ALSO: 35e Annual Hale 'Aina Award Winners: Hawaii's Best Restaurants
"I figured if we had to serve bread in a restaurant, I was going to do it myself." – Kevin Lee
His dedication to creating the best dining experience possible, his thoughtfulness in everything he does, and his ability to serve something new in a neighborhood teeming with trendy restaurants is the reason Pai Honolulu won the # 1 choice. of the editor for the best new restaurant of the 35e Annual Hale 'Aina Awards.
Lee, who honed his skills at several Michelin-starred restaurants in New York and Hong Kong and built a reputation for ingredient-focused cuisine at Prima in Kailua, created a restaurant like no other in Honolulu, while also constantly looking for new ways to improve each dish. His wife and General Manager, Justine Kadokawa Lee, is the quintessential host, smiling and friendly, making sure your glasses are full and you know where the bathroom is. Together, they create a harmonious balance in the restaurant – welcoming, interesting, sincere.
It's a little past 9 a.m. and Lee is starting the focaccia. All of the dry ingredients have already been measured the day before, which simplifies the process. He stands in front of a stainless steel worktable, the shelf behind him lined with containers of spices, chocolate wafers, and apple pectin, a gelling agent. On the left, on another shelf, his sourdough starters, which date from November 2017, wild and delicious. It uses natural sourdough – made from the simple combination of all-purpose flour and water, mixed by hand – because it gives bread a more complex flavor, thicker crust, better texture.
He combines the sourdough with an exact amount of water, slowly turning the liquid and bubbling mixture. Then he adds the dry ingredients – unlike other breads, Pai's focaccia is flavored with dried and fresh herbs, chilies and garlic – to the wet mixture and combines it by hand.
SEE ALSO: Peter Merriman is Hawai'i Restaurateur of the Year
"It's actually quite a workout," he says with a smile. "It's like going to the gym."
Lee scrapes the sticky dough into a commercial-grade 20-quart Vollrath stand mixer, which he bought a few weeks before, to knead it for about six minutes. He let stand another 10 minutes, then add salt. ("If the salt comes in direct contact with the yeast," says Lee, "that will kill it.") He turns on the mixer again, and when the dough is well mixed, he transfers it to a Lexan plastic container and turns it on. covers, which helps maintain the heat created when the yeast begins to feast on the starch. The resulting heat helps the dough rise faster, he explains.
He repeats the operation, with a few adjustments, for the ciabatta and sourdough breads. After the first batch has risen for an hour, it begins to fold – not really knead – the dough by hand, stretching it over and over again to develop gluten. This method tends to give the bread a better shape and structure. Then he puts it aside to let it go up. As the last batch of dough tumbles into the stand mixer – he was doing it all by hand – he grabs a cooler bag and heads to the markets in Chinatown.
The lunch menu includes Lee's artisan breads.
He picks up a package of wonton wrappers from the Yat Tung Chow noodle factory, then goes to Gon & Ti for some fresh Thai basil, which is used as a garnish on a dish with chilled lobster and shredded mozzarella. He's heading to another market for curry leaves – they're fried and served over roasted cauliflower florets – and dried shrimp, which are powdered and sprinkled with homemade shrimp chips with charred Maui onions. and a horseradish cream. His final stop is any market for dried scallops, which he uses in his special XO sauce.
He doesn't mind doing these errands. This gives him the opportunity to see what's available and in season, which inspires his menu. It's also an excuse to grab a jasmine milk tea drink from Domo Café.
Lee returns to the restaurant around noon, ready to begin preparing the lunch and dinner service for tomorrow. In the meantime, he continues to fold and portion the different batches of dough. The focaccia, ciabatta and baguettes are cooked around 5 pm; the sourdough rye is placed in fabric-lined fermentation baskets and stored in the refrigerator overnight until cooked the next day.
SEE ALSO: Here are the novelties of Hawaiian restaurants in February 2019
Pai's signature dish is agesashi XO turnip cake.
Lee wants to experiment with more styles and techniques of bread. He can't help it. As you walk through the kitchen, you get the impression that this is how he is. The walk-in is full of cold cuts at various stages of aging: a whole pork leg for the prosciutto, fennel salami, duck prosciutto, pepperoni, Spanish chorizo, mortadella, pork bacon, lamb bacon, adobo head cheese. All menus are also changing soon, and he plans to host more themed dinners and special events over the coming year.
Nothing about it, neither the extra work, nor the extra effort, nor the lack of a day off, bothers him. He is fully involved in all aspects of the menu and all he wants is to deliver high quality, ingredient-based dishes that are memorable and delicious.
And he does.
"I really like it," Lee said, taking a break from bread-making to refuel on cold brew coffee. "I like to see the whole process. And I'm not even close to mastering that. There is still so much to learn.
Pai Honolulu, 55 Merchant St., Suite 110, 744-2531, Paihonolulu.com
READ MORE CATHERINE TOTH FOX STORIES