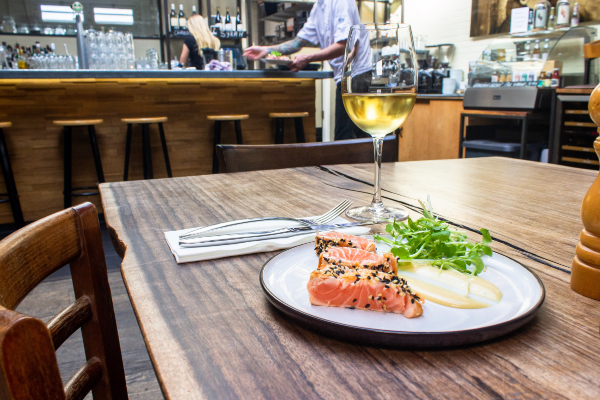 Make restaurant staff stick around
The food industry experiences high turnover. Restaurant managers can combat high turnover by using these simple steps from Doral Food Distributors.
Your restaurant's turnover
Your restaurant has it all: great food, a perfect location and amazing service. Unfortunately, hiring and retaining the perfect staff has proven difficult, and you don't know why. If you've been in the restaurant business for a while, you've probably realized that it's notorious for its high employee turnover rate, no matter what type of restaurant you run. But fighting that turnover and increasing retention isn't impossible. Follow these next steps from Doral Food Distributors to help reduce high turnover rates.
The restaurant industry's turnover can be partially attributed to its lack of career development opportunities. Most staff stay in the same position for a long time, performing the same tasks. This can be handy if you want to hire workers who just show up for their paycheck, but less so if you're looking to hire more motivated employees with clear career goals. COVID-19 has exacerbated this problem, with many restaurateurs having to lay off staff due to catering restrictions and lost profits. The industry is starting to recover, but 17% of restaurants have had to close due to the pandemic, and there are still far more jobs available than staff working in those jobs. The following Doral Food Distributors help you combat employee turnover and keep great employees by your side, where you need them. Remember, if you can't give staff a good reason to work for you, they won't.
Teamwork and training
Every employee in your restaurant's kitchen, dining room, and bar directly contributes to the success of the restaurant, and it's essential that they know it. A great way to increase staff retention is to ensure that every team member is on the same page when they arrive at work. Practice open-book management: addressing operational changes in a collaborative way will make your employees feel much more important, because they are! Be transparent with your entire team, regardless of position or tenure. Thus, all of your staff will know that the life of the restaurant is based on effective teamwork.
Train well and train often. Identify who and how you want to train by creating a checklist of what you want a given employee to accomplish at the end of a given period. Make sure your training is ongoing and collaborative. New hires are much more likely to succeed if given the opportunity to learn and grow; it means making mistakes from time to time. Create an environment of trust. When you encourage and praise good performance, good performance will come and go.
Be supportive and compassionate
Staff members want to see their leaders work as hard, if not harder, than they do. Their managers must be able and willing to do whatever they are. Even if you tend to be more assertive, showing respect to your employees will make them trust you. Let your staff know you appreciate them and do it often. Ask them how they are doing outside of work. Praise publicly and punish privately. Listen to what they have to say. If you show respect and compassion, your people will feel it.
Understand that life happens. Do your best to be flexible: offer your staff a schedule close to ideal for them, or at least ask them for their preferred working hours. Providing a good work-life balance will allow employees to feel much less stressed at work, which will lead to them feeling happy at work. And when they feel happy at work, they perform that much better. Everyone wins!
Good salary and benefits
Employees enjoy good pay, benefits, and perhaps most importantly, career development. Instead of trying to manage turnover rates, restaurateurs need to think about their staff development plans from the perspective of an entry-level employee. It's not enough to admit that restaurant workers deserve better pay; restaurant owners and managers need to offer better wages and (where applicable) better benefits. Employees who are paid more and have at least part of their health insurance covered by their employer understand that their employer cares about their health, safety and quality of life. If you're not ready to do it, employees will find someone who will.
About Doral Foods
Retaining restaurant employees may seem difficult, but it's not impossible. Let the professionals at Doral Food Distributors help you find and retain superior staff. We are proud to offer a multi-faceted work environment, motivated management, efficient human resources and essential expertise both on food production and on the operators involved. Others focus solely on food and marketing, and while these factors are essential, we keep our customer relationships at the forefront of our efforts. Our dedicated hands-on service puts the best flavors in the kitchen and on the shelves while committing to you, setting us apart from the rest.
Media Contact
Company Name: NAOSSOFT
Contact person: Phanel Small
E-mail: Send an email
Call: 1-813-563-2056
Address:66 Flagler Street West – Suite 900 #2959
City: Miami
State: FL
Country: United States
Website: naossoft.com