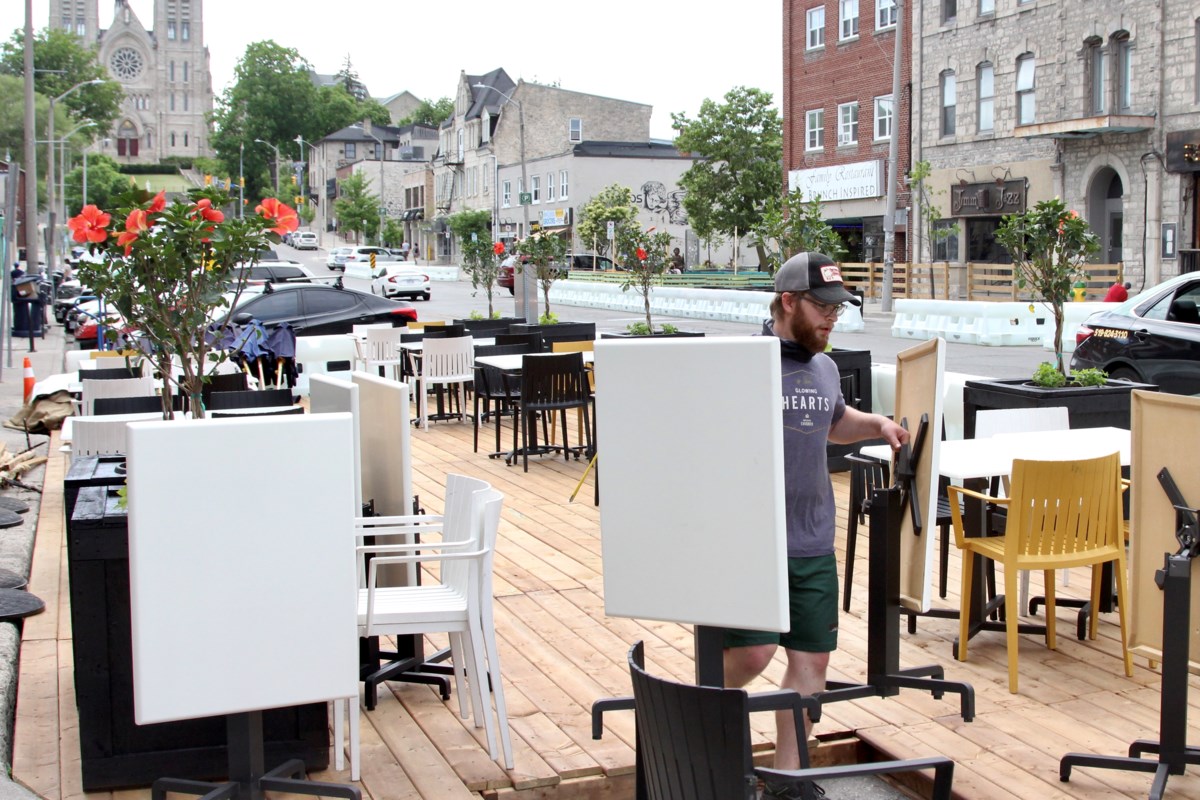 "It's gonna be wild:" restaurant staff working hard to prepare for patio launch
Restaurant workers in downtown Guelph stressed the need to be patient as the new season opens on Friday
After getting the go-ahead from the province this week, staff at the downtown Guelph restaurant were seen working tirelessly to set up the patios for the opening Friday.
With the warm weather and the restrictions lifted, restaurants have a good idea of ​​what to expect.
"It's going to be wild," said Brandon Rennie, co-owner of Gin Mill.
"We hope people will be patient with us. I mean they're rusty, we're rusted too so we're all going to run at the same time.
Bars and restaurants in downtown Guelph were seen setting up tables, finishing their new wooden decks and adding the finishing touches.
Gin Mill scheduled to open at 12:01 am.
For Rennie, it was the excitement and a bunch of energy drinks that kept him working nonstop Thursday.
"Technically it opens at 12:01 am Friday," said Rennie, who expects about 24 patrons on the patio now and 50 patrons when restrictions ease.
He said when the provincial announcement of the reopening was made, emails from customers to make reservations started pouring in.
And restaurants are also getting creative with the restrictions.
Taj Marshall, owner of Rise and Shine Brunch, sets up umbrellas and plays soca and reggae to patrons on the patio to enjoy Caribbean cuisine.
"They can't go to the beach, so I'm going to bring the beach to them," Marshall said.
"People have been under a lot of stress. They want to go somewhere. They can't go anywhere, so that's ideal.
NV Kitchen + Bar has built new terraces this year that can accommodate around 45 people while customers distance themselves socially.
"It's a crazy race right now. It's exciting, "said Randon Hiles, co-owner of NV, who was seen chopping pieces of wood to build boxes around palm trees on the new bridge.
Hiles said the restaurant receives incessant calls from customers trying to make reservations.
"I stopped answering the phone," Hiles said. "It's first come, first served."
La Reina began work on setting up her outdoor patio on Tuesday with tables spaced exactly six feet from each other on a new raised wooden deck shaded by umbrellas.
Dawson Deck, an employee of La Reina, said the restaurant expects to seat around 170 customers on its two combined terraces and that it has received calls from customers in the past three days hoping to book a reservation.
"People seem excited," Deck said, adding that the patios will operate on a first come, first served basis.
"We are all ready as a staff and as a restaurant to welcome everyone the best that we can and do our best to make sure everything goes well regardless," said Deck.
He said restaurants had not been able to offer table service for two months and patio service since last fall. It is therefore important to remember that the staff can be a little out of practice.
"We're all going to work as hard as we can and the days are going to be long. So just give us a little grace and we'll do our best to accommodate everyone so you have the best time possible, "Deck said.